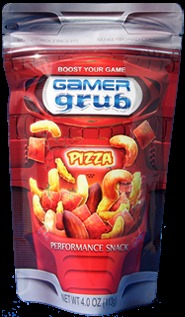 That's exactly what I did at E3, passing by the tiny Gamer Grub booth between appointments. I approached the counter, filled with sample cups of all four flavors, out of sheer curiosity. ("Where have I heard of this before?") I was surprised --nay, shocked!-- to find the snacks to be, in a word, delicious. The company representative apparently took notice of my media badge (and my approving reaction) and quickly offered full-size bags of the Pizza and PB&J (peanut butter and jelly) flavors. I, being damn-near shameless, thanked him and hinted that our rather large website staff would really appreciate the samples, which naturally led to even more free food being offered and subsequently accepted.
A small portion of the samples did go out to my fellow NWR writers, but most of it went directly into my digestive system. That's because I was hungry, and Gamer Grub is food. E3 truly brings out a person's primal nature. I tend to skip real lunch at E3 for the sake of my valuable time and somewhat less valuable money, but my belly stayed satiated for two mid-days in a row thanks to Gamer Grub. It tasted good, even in larger quantities, and it satisfied me for a few hours.
The snacks were such a nice surprise that I felt compelled to congratulate the company via email after E3... which, as you might expect by now, resulted in even more pouches of Gamer Grub being sent through the mail. Maybe this is wasteful shipping, but no more so than the ramen, cookies, and military rations that game companies have sent over the years to promote various things.
Only the Pizza and PB&J flavors are currently available for purchase (at around $4 per bag), and you probably won't find Gamer Grub at all outside the two initial retail partners: Fry's Electronics and ThinkGeek.com. Of the first two flavors, I prefer Pizza, which tastes like a savory trail mix covered in Doritos powder. It's obviously cheesy and salty, but there's also a pleasantly strong tomato flavor. PB&J is less satisfying as a heavy snack, but it captures the sandwich's flavors extremely well, particularly the contrast between salty peanuts and sweet (strawberry) jelly. Both are filling and definitely tasty, and although the food is heavily processed (like most things we eat these days), Gamer Grub's ingredients include relatively wholesome peanuts, almonds, pita chips, dried fruit, etc. The two flavors I've tasted are good enough that I'm still eager to try the Chocolate and Wasabi flavors when they become available.
The makers of Gamer Grub were eager to tell me about the product's health benefits at the E3 booth. It's fortified with several vitamins, including some exotic-sounding stuff that, when provided in a certain combination, supposedly makes your brain and muscles work together better. That's not very appealing for me, since I often want to turn off my brain and employ minimal muscle function while playing games, even on Wii. This stuff is mainly being marketed at the Halo/CoD4 crowd -- gamers who are looking for an edge. I don't think they're going to find it in snack foods. The less dubious advantage for gamers is that Gamer Grub comes in a recloseable pouch that lets you pour the food into your mouth without ever touching it. The container works exactly as advertised.
You're an idiot if you think drinking Vitamin Water every day will make you healthy. It's just Kool-Aid with unnecessary nutrients, most of which don't absorb well without food. But I still buy Vitamin Water every now and then... because it tastes good. Same goes for Gamer Grub. I guess every food company has to find a marketing hook for its products, but any real or imagined competitive benefits from eating this stuff pales in comparison to what should be the real draw: the snacks are delicious. It seems odd to market a snack so directly to a particular population (like the Yorkie chocolate bar, or Men's Pocky) when it should be equally tasty to everyone. I found it to be most handy as an air travel snack, since it goes through security, fits easily in a carry-on, and tastes similar (but better) to the nuts and pretzels we already associate with airplane food. Regardless, if you are a connoisseur of snacks or just need to pick up some calories while out shopping, Gamer Grub is a fine choice.