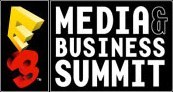 So far, it looks like Steven "Windyman" Rodriguez and I will be the only two representatives from Nintendo World Report, although we may try to get TYP access at the door, since he lives nearby and won't be risking much to try it. I'm trying to be realistic about just how exciting the show is going to be, since it has shrunk so drastically and we won't have the traditional, massive staff presence. However, I should still have some fun social time with all my other friends in the gaming business.
One of the best parts of every E3 has to be Nintendo's media briefing, where they announce the big games for the rest of the year and sometimes reveal games even further out. This year's briefing returns to the huge Kodak Theatre, where the Oscars are now held. I got to sit in the third row of this place during the 2006 briefing, and it was quite thrilling. Nintendo's presentation that year wasn't exactly what we were expecting, but the debut of Wii Sports turned out to be an historic event. I'm now wondering if they can match that gravitas this year, or whether we'll be held captive for two hours watching Wii Fit commercials and YouTube videos about how much moms and dads love bowling. With E3 changed so much, does it even make sense to rent out the Kodak and put on another decadent briefing this year? I guess we'll see on July 15th.
I don't yet know what Windy has in mind for coverage this year, but it will be interesting and exceptionally busy with such a small crew at the event itself. We'll have to depend more than ever on our "Home Team" and probably relay a lot of information to them via phone and email between publisher meetings. One thing I definitely want to try is a set of short, daily podcasts that briskly go over the previous day's events and give our capsule impressions on all the games we played. These episodes should be able to go live quickly, since Windy and I can share a microphone to simplify the audio editing. I think we should also be able to get the E3 awards doled out much sooner than normal, since there is no need to build consensus or deal with the hassle of voting among the staff. Steven and I could even write our own separate awards articles if needed. If you have more ideas about this kind of thing, please let us know in the Talkback thread for this blog post.
So yeah, despite my semi-retirement from NWR over the past six months, I'm going to be representing the site at E3 one last time. It feels pretty strange to be going back, but I'm also excited to get one more taste of the show that literally changed my life way back in 2000.