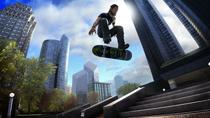 Despite all the hate for the staleness of the Tony Hawk series, the original game and the first couple of sequels were actually quite innovative. Tony Hawk's Pro Skater, when it was released in 1999, pretty much solidified a floundering genre. It set up basic gameplay that was improved yearly until they had done all the basic improvements for skateboarding (manuals, reverts…) and then had to go to the next level, open worlds. No longer shackled to two minute time constraints, the game evolved a lot over the course of Tony Hawk's Pro Skater 4 and Tony Hawk's Underground but the next step kind of ruined the game for me. Apparently the next step in Tony Hawk video game evolution was to include Bam Margera's CKY antics. And thus, Tony Hawk's Underground 2 was pretty much the beginning of end of the series for me.
The next game in the series (the seventh for those keeping score) was actually very good. It was pretty much the culmination of every previous game. If Tony Hawk's American Wasteland were the last game of its kind, I think I would fondly remember the Tony Hawk series. However, that doesn't fit into Activision's plans for world domination and/or game franchise over saturation. The next two years worth of games were pretty horrendous (at least in my opinion) and were part of the factor that eventually led to my pretty adamant boycott of buying any Activision games new, but that is a post for a different time.
However, this genre is really looking up for the first time in a long time. Last year's release of Skate for Xbox 360 and PlayStation 3 was a back to the basics game that introduced truly innovative controls. Wii will receive a new version of the game called Skate It that promises innovative skateboarding controls via the Wii Remote. Meanwhile, Ubisoft is readying Shaun White Snowboarding which will be making heavy use of the Wii Balance Board. And apparently Activision is taking a year off of Tony Hawk games which might be exactly what the series needs. Although the pessimist in me predicts that the next Tony Hawk game will be a carbon copy of Skate and will eventually lead the genre into a brief renaissance followed by eight to ten years of crap.