After 500 episodes, the WHO has finally traced the cause of the Internet's ninth-most pervasive malady.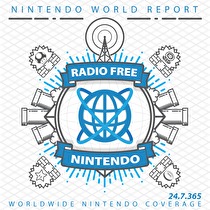 Subscribe via iTunes (Please rate and review, too!)
After weeks of delaying tactics, it is finally time to celebrate the 500th episode of Radio Free Nintendo. BUT FIRST it's time for Listener Mail! This week's topics include: the 87 Mario Kart games, catching up on Wii/Wii U downloadable software, the shape of Switch (and James' blatant self-promotion), and we get castigated about our Pokémon knowledge by a man who literally sent James explosives in the mail. You can call out our ignorance of Weedle-stroking via the inbox.
After the break, and us exhausting all possible avenues of delay, it is time for us to commemorate our 500th episode. We start off with your memories of RFN episodes of yore. It would be touching if we got a bit misty-eyed, but it's mostly reflections of past idiocy so the segment devolves into us blaming each other for each particular failure. After that, Greg put together an RFN questionnaire. Ever wonder what Jon's favorite RetroActive is? Me neither. Find out, inside!
As always, I want to thank each and every one of our listeners and everyone who has made this show possible.
For reference, this is actually Episode 680.
This episode was edited by James Jones. The "Men of Leisure" theme song was produced exclusively for Radio Free Nintendo by Perry Burkum. Hear more at Bluffs Custom Music's SoundCloud. The Radio Free Nintendo logo was produced by Connor Strickland. See more of his work at his website.
This episode's ending music is Special Arrange Medley from Theatrhythm Final Fantasy: Curtain Call. It was requested by Greg. All rights reserved by Square Enix Holdings Co., Ltd.