The gang's back together, but PAX is still on our minds. So is... 3DO?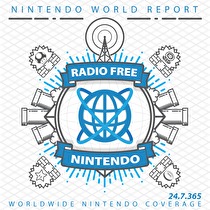 Subscribe via iTunes (Please rate and review, too!)
Fresh off our third trip to PAX East and another successful panel, Jon, James, and Jonny rejoin with Greg for a good old-fashioned podcast. Sir Leahy gets it rolling with Cave Story 3D, which of course he loves and has now played through three different times. Lindemann has just barely started the American release of Xenoblade Chronicles, but his early impressions spark a lively discussion amongst the entire group, now that we've all played at least a bit of the game. Jonny completes New Business with his initial thoughts on Tale of the Abyss for 3DS, as well as Metal Torrent, Nintendo's cheap and remarkably short shoot-em-up for DSiWare.
Later in the first segment, we start up RFN's "coverage" of PAX East 2012 as Jon and James describe their terrifying encounter with Way of the Warrior, a legendarily abysmal fighting game for 3DO. Following that trend is Jon's weird tale of Demolition Man, and more importantly, the mysterious stranger who provided unexpected and disturbingly accurate guidance through Stallone's monstrous game-movie blend for the same cursed platform.
Segment Two continues our PAX memories, but this time with a stronger leaning toward actual good video games. StreetPass is a favored topic across multiple 3DS titles, but we also played demos for (Bit.Trip presents) Runner 2, Hell Yeah, and Penny Arcade Adventures: Episode 3. Jonny gets his own chance at bad game glory with Turok: Dinosaur Hunter for N64. And we share very fond memories of Chris Kohler's Retrogame Roadshow panel, which you can even watch online.
We didn't have time for Listener Mail this week, so there's a good chance it will feature on the next episode. Send in your questions and comments! You should also start playing MotoHeroz, the WiiWare game (from developers of Trials HD) voted by listeners to be the focus of our next RetroActive feature. Drop your thoughts in this here official forum thread and we'll read some of the best comments on the podcast! Finally, don't forget that the RFN t-shirt is on sale now, and proceeds benefit this show and the website, so we hope you'll check it out.
This podcast was edited by Greg Leahy.
Music for this episode of Radio Free Nintendo is used with permission from Jason Ricci & New Blood. You can purchase their newest album, Done with the Devil, directly from the record label, Amazon (CD) (MP3), or iTunes, or call your local record store and ask for it!
Additional music for this episode of Radio Free Nintendo is copyrighted to Nintendo, and is included under fair use protection.