Three and a half years and 175 episodes later, Jon, James, and Greg finally get to pay their respects to the Nintendo 64 with some help from TYP.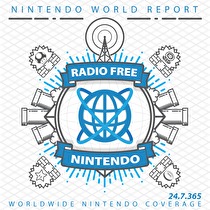 Subscribe via iTunes (Please rate and review, too!)
A long time ago, RFN host Jonathan Metts decided that he wanted to pay tribute to the Nintendo 64 with a special episode entirely dedicated to the platform. However, he would do so without the participation of his loyal, N64-loving co-hosts Jon, James, and Greg, as they were callously cast aside in favour of bigger names (and Evan Burchfield). Years passed; history became legend, legend became myth, but those who were left out in the cold never forgot their betrayal.

So, when Jonny made the mistake of being absent from recording for RFN Episode 264 mere weeks after the 15th anniversary of the Nintendo 64's launch in North America, the stage was set for some 64-bit redemption. But first, there's New Business, in which James and Greg both do a bit of portable role playing as sportsmen with Inazuma Eleven and Mario Golf: Advance Tour, plus James reacts to the recent Level 5 Vision event with great anticipation at the prospect of being poked in both eyes simultaneously by Professor Layton and Phoenix Wright.

It's on to the main event in segment two, when TYP joins the disgruntled trio to ensure their frustration is chanelled in the right direction: celebrating 15 years of the Nintendo 64. Our journey begins with a look back through the platform's tumultuous three year pre-release history, from its announcement in October 1993 as "Project Reality" through to its US launch in September 1996, with all the hype, twists, turns, and high profile defections (I'm looking at you Square) in between. For the meat of the discussion though, it's all about the games as we each go through our favourite 15 games for the 64-bit wonder, recognising not only Nintendo and Rare but all the other developers who helped us get through the mid-to-late 1990's with a smile on our face (and the guys who made Quest 64, for some reason).
Don't forget, River City Ransom won the recent RetroActive poll and the discussion has already started in the forums, so post your impressions and analysis in the

official RetroActive #20 forum thread!
This podcast was edited by Greg Leahy.
Music for this episode of Radio Free Nintendo is used with permission from Jason Ricci & New Blood. You can purchase their newest album, Done with the Devil, directly from the record label, Amazon (CD) (MP3), or iTunes, or call your local record store and ask for it!
Additional music for this episode of Radio Free Nintendo is copyrighted to Nintendo and Rare, and is included under fair use protection.