Curtis joins the ruckus to talk about all the hottest topics of 2015: Mario Kart, Donkey Kong, and Twilight Princess.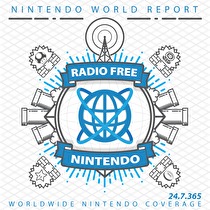 Subscribe via iTunes (Please rate and review, too!)
We are very pleased this week to have returning guest Curtis Bonds, one of the bright youngsters behind NWR TV. He's here on a special assignment, but that comes later. First, Curtis has some very early impressions of the new Mario Kart 8 tracks, and we all chip in thoughts on the Mode 7 recreations, F-Zero mysteries, and more. Curtis also plays Donkey Kong Country 3 for the first time -- will he join the fan club? Jon Lindemann continues the retro love with a sneak preview of our upcoming RetroActive feature discussion, as he serves up impressions and stages a brief discussion of Twilight Princess. Meanwhile, James temporarily returns our focus to brand new games with his nuanced thoughts on Affordable Space Adventures, which Guillaume has also played. Jonny has a follow-up report on Box Boy!, while Gui anchors this long segment with the new StreetPass mini-games. We close this edition of New Business with a much-hyped debate over the merits of Donkey Kong 64. Curtis admits that it's one of his personal favorite games, but can he carry its torch through a modern examination? The rest of the gang, including first-timer Guillaume, also take a deeper look at this game that is now digitally available for the first time.
Listener Mail is up next, and it's back to the normal tempo... for now. Our first email is an eloquent defense of cross-platform emulation, most notably the recent addition of GBA and DS support for Wii U's Virtual Console. The next email turns playful with a survey of our guiltiest gaming pleasures, and the final bit of business concerns Nintendo's support of independent games on the eShop. Please keep sending your emails, big or small, to support the show and introduce new topics for us to explore.
Thanks for listening, and be sure to watch Curtis on NWR TV and CurtDogg Gaming!
This episode was edited by Guillaume Veillette. The "Men of Leisure" theme song was produced exclusively for Radio Free Nintendo by Perry Burkum. Hear more at Bluffs Custom Music.