Getting hit by a dragon's spear is always a bad time.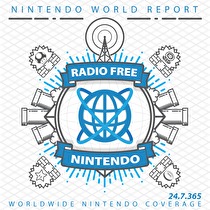 Subscribe via iTunes (Please rate and review, too!)
It's February, the month of missing time, and apparently the start of Radio Free Nintendo's silly season. A punchy episode starts with the customary New Business, lead off by Jon. His resolution to only speak about PlayStation 4 games is immediately broken by his thoughts on 3DS eShop free-to-play Pokémon Picross. The man who never learned to love number puzzles finds it only took a synergy with his love of Pokémon to get him in. Come for tips on how to play Picross, stay for insight into a man's psychology. Greg and James discuss the latest DLC for Smash Bros. The release of the final two characters, Corrin and Bayonetta, gives them time to talk about the fan service master class one more time. Guillaume has had a chance to play Final Fantasy Explorers online, and has an update on the Monster Hunter-inspired Final Fantasy game. He lavishes praise such as, "It's a game I bought," and "I guess I'll keep playing it." He then pivots to Wii platform adventure game Muramasa. Yes, it's a gorgeous game and a lot of fun, but where the heck is Gui supposed to be going? Lastly, James takes a look back at 16 months of fitness. Wii Fit...ness U. No chicken wings were required to reach his health goals, but the Wii U Fit Meter helped all the same, giving its life in the process.
After a break, it's time for an utter failure of a "Thunderous Round" of Listener Mail. Topics include: Level 5-iest games, Quality of Life, and Zelda for Wii U. The crew even manages to answer a question about a Nintendo scarf without crashing the episode into a ditch! You can ask us about your choice in fashion accessories via our mailbag.
Just a reminder, we'll be doing our Retroactive for Viewtiful Joe on Episode 464. You can post your thoughts in the discussion thread. We'll also take comments via the mailbag. And lastly, keep sending us your thoughts on Xenoblade Chronicles X for our upcoming spoilercast. We will likely talk about X and it's predecessor, but if we do we will caution prior to the show's beginning.
This episode was edited by James Jones. The "Men of Leisure" theme song was produced exclusively for Radio Free Nintendo by Perry Burkum. Hear more at Bluffs Custom Music.
This episode's ending music is Theme of Kraid's Lair, from Metroid: Zero Mission. All rights reserved by Nintendo.