The hand-crafted style of this Wii U game calls to mind Kirby's DS debut.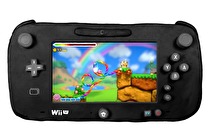 We're now in March 2018, so that means Kirby Star Allies is now due out later this month. In advance, we're going to look back at the Kirby series, specifically the last 10 years of games.
Next up is Kirby's Wii U dalliance: Kirby and the Rainbow Curse. Using the GamePad's asymmetrical multiplayer wiles, this overlooked game had some neat multiplayer to match its killer aesthetic.