Did you know we do giveaways on our Patreon page every month? No purchase necessary!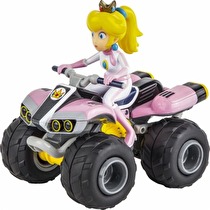 Nintendo World Report has a history reaching back more than 18 years, and that history was built every step of the way in partnership with its fans, readers, and supporters. We wouldn't be here, passionately providing Nintendo news, reviews, and content, (Like our current E3 2017 coverage) without you guys!
By way of thanks, we've been running monthly giveaways on our Patreon page! Every month we give out a different prize, randomly selected from entrants. This month's prize is a Carrera Princess Peach 1:20 Scale RC Mario Kart 8 Vehicle! Next month's prize will be completely different!
If you back us (at any amount) you're already automatically entered every month for the giveaway! In addition to that, you gain access to exclusive Nintendo World Report content, and can even have influence on the site at higher tiers. HOWEVER, that's not the only way to enter, so make sure to read our full Patreon post!
Your readership and support really help keep our independent Nintendo gaming site going. Thank you everyone, and stay fresh!