Gaia, a studio formed by a former Atlus employee, might not be in existence anymore.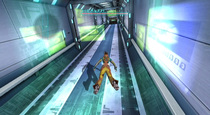 Cosmic Walker, a space-based game set to be published by Nintendo and developed by Gaia, could be close to being officially canceled. The developer's website is currently empty except for a sentence that translates to "Sorry, this website is now inactive."
Cosmic Walker originally appeared in a reel of Wii games in late 2008 at the same conference that Punch-Out!! and Sin & Punishment: Star Successor were revealed. It was listed as in-development title until late 2009.
Gaia, formed by Kouji Okada, who created a bulk of the early Shin Megami Tensei games at Atlus, was formed in 2003. Aside from the unreleased Cosmic Walker, the company also made Sword & Poker 2, released in May 2010 for iPhone, and Monster Kingdom: Jewel Summoner, which came out in 2007 for PSP and was published by Atlus.