Where in the 3D worlds are we?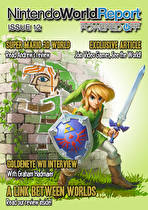 Download Nintendo World Report: Powered Off - Issue 12
This issue James Jones explores real world locations vicariously through playing various games, and ponders why more game developers don't set their games in lovingly recreated real world places.
Feature wise, we have articles on grinding in JRPG's, Zach Miller returns with a Poké-fever induced Nerds and Men, along with the sounds and tones of Metroid: Other M.
On the review front, we have a collection of Mario 3D World, Bravely Default, Goldeneye Wii, Mario Party: Island Tour and Zelda: A Link Between Worlds.
On top of that, we have an interview with Graham Hagmaier on the topic of Goldeneye 007 for the Wii, Staff Sez, Extra Life and Staff Profiles.
Please enjoy.
You can send your mailbag questions or game ideas in here.