Pikmin, Animal Crossing and stupid games permeate this issue.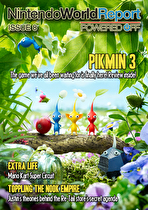 Download Nintendo World Report: Powered Off Issue 8
After the massive E3 issue from last month, we are returning to a more normal issue of Powered Off.
James Jones returns with an all new exclusive article, this time with an attention grabbing headline, ' Your Game is Stupid.'
Some of our other content includes, a preview for Pokémon X and Y, some interesting blogs on Animal Crossing, an in-depth look at Sonic the Hedgehog's portable games, an Extra Life on Mario Kart: Super Circuit and two interviews. One being the continuation of our Factor 5 interview, and the other is with Gunman Clive's developer, Bertil Hörberg. On the review front we kick things off with Pikmin 3, then follow on with some Resident Evil, Game Gear titles and finally with some Mario & Luigi action.
Andrew Brown has also returned with another all original comic, if you are into Animal Crossing it should be quite relatable.
We want letters for the mailbag! You can send your mail in here. Thanks for reading!