Number 9, number 9, number 9.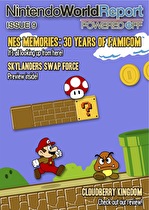 Download Nintendo World Report: Powered Off Issue 9
This issue we push forward with some more previews and impressions, which include, Skylanders SWAP Force, Etrian Odyessey Untold: The Millennium Girl, Ryū ga Gotoku 1&2 HD and Darumeshi Sports-ten.
Feature wise, we have all of the NES memories from various staff members and also some game developers from companies such as Renegade Kid, Two Tribes, Next Level Games and Yacht Club Games.
Reviews include, Nazo no Murasame Jō, Attack of the Friday Monsters! A Tokyo Tale, Art Academy: SketchPad and Cloudberry Kingdom.
All this and much more!
Please enjoy the issue!
We are also hoping to start a Game Idea of the Month page soon, but we will need you readers to send in your ideas to make it happen. So send in your ideas and you may be published in a future issue!
You can send your mail or game ideas in here.