Chow down on a tasty Jonzel whilst reading this latest issue.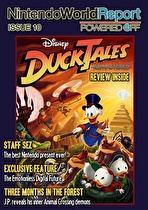 Download Nintendo World Report: Powered Off Issue 10
Digital game collections vs physical game collections, a query that continues to appear more and more as we walk into the era of full digital distribution. While some people cherish the advances in not having to own disks and cases, many, including myself, love to have a library of titles that we can physically connect with. James Jones's exclusive article for this month talks about his love and admiration for the collection of games he has amassed over the years, even when he has had to pack it all up to move house, he is still seemingly pro physical.
Danny Bivens has recently attended the Tokyo Game Show and has managed to find some interesting games that will soon be appearing on the Nintendo 3DS in Japan. The games include, Gaist Crusher, Hatsune Miku: Project Mirai 2 and Theatrhythm Final Fantasy: Curtain Call.
Other content that appears in this issue includes some more Animal Crossing fun, more thoughts on the recent DuckTales remake, Of Nerds and Men, some history on Rune Factory, plus much more!
Lastly, the first entry in our Game Idea of the Month section has been included. Fans of Radio Free Nintendo will surely not want to miss these ideas.
Please enjoy the issue.
You can send your mail or game ideas in here.