PAX, Zelda, Metroid, Donkey Kong, a larger font, and more in this issue!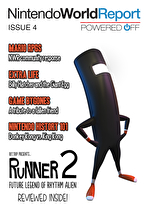 Download Nintendo World Report: Powered Off Issue 4
This is a pretty packed issue! To kick it off, we have a great exclusive article from James Jones, which elaborates on a discussion point from the RFN PAX East panel. Speaking of PAX, included inside we also have a two-page photo gallery showing what the NWR crew got up to over the event.
That's not all though: If I Were in Charge of Zelda continues with Andrew Brown discussing his thoughts on making Link female, Jonathan Metts discusses the future of Metroid, and to wrap things up we have a Nintendo history lesson with Donkey Kong Vs. King Kong.
All that and more is included for this month, so check it out! We have also enlarged the font size slightly, making it even easier to read.
We want letters for the mailbag! You can send your mail in here. Thanks for reading!