Worst vacation ever, I gotta say.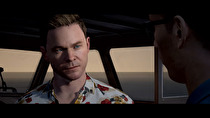 Like a fine ghost, Bandai Namco has dropped a horror series on Switch out of nowhere.
One of today's surprise eShop releases is Man of Medan, the first game in the Dark Pictures Anthology developed by Supermassive Games. Originally released in 2019, Man of Medan is the first of four stories that have released on a once-per-year pace since.
The Switch version contains an extended chapter and a "Curator's Cut" mode. The game's eShop page also specifies the game runs at 24 frames per second (FPS) - the standard frame rate for most movies.