This thing has Luigi-class legs.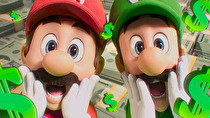 The three comma club has a new member in the Super Mario movie.
Box office estimates for the weekend have the film reaching a worldwide take of US$1.02b following its fourth weekend of worldwide release. This makes it the 52nd film to cross a billion dollars in worldwide gross, the 11th animated movie, and the fifth since the ongoing COVID-19 pandemic began.
For its fourth weekend in the United States, the Mario movie brought in $37.5m according to estimates at Variety, which would be a 37% drop from last weekend. Details for its opening weekend in Japan have not yet been released due to the Golden Week holidays.