When you need to be broken up, you can do stuff like this.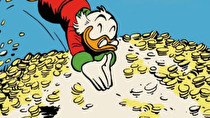 As part of their annual D23 event, Disney held a showcase today to show off several upcoming games published both by the company directly and from publishing partners.
A project shelved in 2016 when Disney last left the game industry has been revived as an apparent Switch exclusive. Disney Illusion Island is a four player co-op platformer that was announced only for a 2023 release on Switch. It is developed by Essex, England based studio Dlala, whose most famous work is the 2019 Microsoft reboot of Battletoads and assisting with Modus's Lost Words: Beyond the Page and Team17-published The Escapists.
Former WiiWare developer Empty Clip Studio (Groovin' Blocks) are working on a remastered version of the 1995 Genesis Gargoyles game, though no release date was given.
New DLC was announced for LEGO Star Wars: The Skywalker Saga which will include characters from the upcoming Star Wars: Andor, as well as Star Wars: Rebels and the Clone Wars cartoon. The packs will launch on November 1.
Another trailer was shown for the upcoming Return to Monkey Island (September 19), as well as prequel shorts for Marvel's Midnight Suns that begin airing on October 31 (though the Switch version of Midnight Suns still has no release date).
New content was announced for the recently-released Disney Dreamlight Valley (adding a Toy Story world) and the forthcoming racer Disney Speedstorm (Monsters Inc.).