How can I hold... er, play... all these games?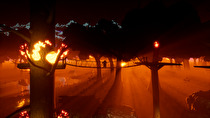 Announcements continued to pour in for Switch at the second Guerrilla Collective show and its companion, the Wholesome Direct.
Thunderful revealed "hack and splash" platformer Firegirl, starring a young firefighter who has to recruit and rescue citizens of their city in order to put out fires. Thunderful later confirmed a fall release date.
Batora: Lost Haven is a 3D action game that offers multiple paths through the story and a "karma" system that is impacted by character choice. No release date was given.
The crowdfunded action slasher Hunt the Night was announced for Switch release from Moonlight Games, with no release date listed.
Bullet hell RPG Archvale, announced last summer, showed a new trailer and a "2021" release.
Ghostrunner, the first person runner from All In Games which released last year on Switch, will get a physical release on June 30.
Fabraz's Demon Turf showed a new trailer and still confirmed a target date of later this year.
Overhead hack and slash game Arietta of Spirits announced a release window of this summer.
90s themed isometric adventure Serial Cleaners from Draw_Distance is targeting "later this year".
Raji: An Ancient Epic will receive an "Enchanted Edition" in the fourth quarter of 2021 with new features.
tinyBuild showed a new trailer for Trash Sailors showing off the game's combat, and indicated it's "coming soon".
Retro styled platformer Kitsune Tails announced a Switch version for their game, which will be live on Kickstarter before the end of the year for a Q1 2022 release.
Arcade Paradise from Wired Productions, a game which involves literally running an arcade that was originally a laundromat, will be out later this year and feature voicework by Doug Cockle (Geralt of Rivia from The Witcher 3).
The full Switch rundown of the Wholesome Direct can be found here.