This is somebody's nightmare.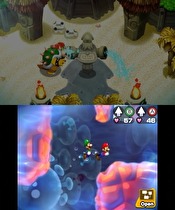 The developer of the Mario and Luigi series has been forced into bankruptcy.
AlphaDream declared bankruptcy in Japan yesterday (October 1), citing debts of ¥465m (approx. US$4.3m at current mid-market rates). The company cited higher development costs and lower sales as the reason for the bankruptcy.
Originally founded in 1991 as a construction company, the firm pivoted to games in 2001 with a Japanese-exclusive Game Boy Color game called Koto Battle: Tengai no Moribito. During their 20 years of game development, AlphaDream developed all of the Mario and Luigi RPGs, and three games based on the popular Hamtaro franchise. AlphaDream's final products were a mobile app called Kedama no Gonjiro (Japan only) and a remake of 2009's Mario and Luigi: Bowser's Inside Story which released for 3DS in January.