A video approaches. Command?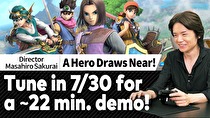 We won't have long to wait for the launch date of Hero in Super Smash Bros Ultimate.
A video presentation will be airing on Tuesday at 9 a.m. Eastern time (6 a.m. Pacific). Hosted by Masahiro Sakurai, the presentation will focus on the moveset of "Hero" and will include the release date for the character.
The presentation will be 22 minutes long. An ingame notice for version 4.0 expires on August 4, suggesting a deadline for the update that would bring Hero.
Join Super #SmashBrosUltimate Director Masahiro Sakurai on 7/30 at 6am PT in a video presentation featuring an in-depth look at upcoming DLC Fighter, Hero from the #DragonQuest series! Alongside new details, he'll be revealing when the fighter will arrive. Be sure to tune in! pic.twitter.com/BSbGmqXo9Y

— Nintendo Versus (@NintendoVS) July 29, 2019
Update: A deleted Tweet from Nintendo of Europe indicated that 4.0 would come 31 July local time, indicating a drop at about 9 p.m. Eastern on the 30th for North America based on Nintendo's update schedule.