We don't know if this is coming to Switch, but with this lineup some of us may be desperate for it.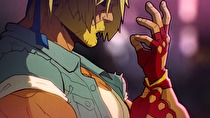 A fourth Streets of Rage is in development, and the soundtrack is going to be a scorcher.
The first new Streets of Rage side scroller in almost 30 years has announced its slate of music composers. Yuzo Koshiro (Etrian Odyssey, Streets of Rage 1-3) will be joined by Yoko Shimomura (Super Mario RPG, Street Fighter II), Hideki Naganuma (Super Monkey Ball, Jet Set Radio, Hover), Motohiro Kawashima (SoR 2/3, Shinobi, Genesis version of Batman Returns) and Keiji Yamagishi (Ninja Gaiden, Tecmo Bowl, Captain Tsubasa series).
Streets of Rage 4 will be developed by Lizardcube and side-scrolling beat 'em up specialists Guard Crush Games, and published by DotEmu under license from Sega. No platforms or release date have been announced yet.