Coming from a Street Fighter pedigree, this fighting game seeks to balance the hardcore and newbies.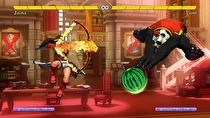 2D fighter Fantasy Strike is coming to Switch on July 25 for $29.99.
Headed up by Super Street Fighter II Turbo HD Remix lead David Sirlin, this 1-on-1 fighting game aims to be both a nuanced, deep, and hardcore experience while still being approachable for newcomers. The controls are designed to be simple compared the Street Fighters of the world, with the goal to emphasize strategy over button combos.
To further the concept of approachability, tutorial videos narrated by Sirlin will be included for each of the 10 characters, which range from a gambling panda to a manic painter.
In addition to local multiplayer and online multiplayer, the latter of which based around the technically impressive GGPO networking, Fantasy Strike also features a variety of other modes, including a traditional Arcade Mode, a roguelike-ish Boss Rush mode, and Ranked Modes that allow for instant tournament creation. The online multiplayer should also be crossplay compatible for Switch and most other platforms.