Expect multiple small updates to resolve it.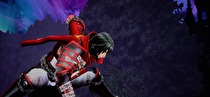 Today's launch of Bloodstained: Ritual of the Night for Switch has been marred with reports of technical issues, and the game's publisher has issued a statement in response.
505 Games's statement is produced below:
Hey, everyone. We have been listening to the feedback regarding Switch performance. Our goal is for everyone, regardless of platform, to be able to enjoy the game and have it run smoothly. We want to live up to your, and our, expectations.
Throughout the QA process we have been addressing performance issues in the game. Update 1.1 was published to Switch prior to launch to add content and improve performance. It did not accomplish as much as we had hoped and we need to do more.
To address the concerns brought up by the community we are immediately shifting resources to improve performance and stability for the Switch. You can expect a number of small updates that will improve different areas of the game rather than waiting longer for one big update. We will have more details as we dive into the work.
We thank you for your patience and apologize for the inconvenience.
Nintendo World Report's Jordan Rudek, who is in the process of reviewing the title, has noted the following:
My understanding is that the back half of the game features areas where fps can take more of a hit, so I'll post another update when I get further in or if I have any significant performance issues. Hoping to have the review done by the end of the week!

— Jordan Rudek (@riskman64) June 25, 2019
Fresh impressions of Bloodstained on Switch in handheld mode:
- Because of the detail in the environments, enemies, and Miriam, it's hard to make out everything on screen
- I experienced more noticeable performance issues compared to docked mode, but not overly detracting 1/2

— Jordan Rudek (@riskman64) June 25, 2019
One final note. I'm about 4 hours in now and I haven't really noticed much in the way of input lag. If it's there, I'm not being distracted by it or it's not affecting my gameplay.

— Jordan Rudek (@riskman64) June 25, 2019