One has Sword and Shield, the other...?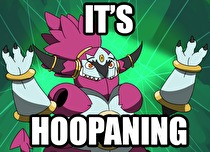 The Pokémon Company will be busy in the run-up to E3.
A Pokémon Direct has been announced for June 5, at 9 a.m. Eastern time / 6 a.m. Pacific. The Direct will be approximately 15 minutes long and focus on Sword and Shield.
Tune in on June 5 at 6 a.m. PT for roughly 15 minutes of new information on #PokemonSwordShield for #NintendoSwitch in a livestreamed Pokémon Direct presentation.https://t.co/d1Xx3bDbhq pic.twitter.com/sNypwrc09d

— Nintendo of America (@NintendoAmerica) May 27, 2019
Before that, a Pokémon "Business Strategy" meeting will be held tomorrow night at 9 p.m. ET / 6 p.m. Pacific. Streamed from Japan, prior strategy meetings have announced Pokémon Go and Pokémon Let's Go. The meeting will be livestreamed on pokemon.com.