I wanted to use this part to crow about slaying a dragon, but the Leafs blew it (as usual, sorry David).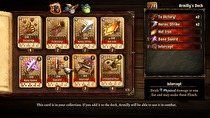 Hey, you're late again.
Blame multiple failed attempts at dragon slaying. Speaking of, Dragon's Dogma: Dark Arisen is one of the week's headliners, and I reviewed that already. There's also SteamWorld Quest (of which Jordan has a review), the ridiculously large Mortal Kombat 11, Boxboy X Boxgirl... it's a huge week.
Anything smaller that shouldn't be ignored?
Super Blood Hockey sounds like a rollicking good time, there's a new Picross, and Dig Dog (not to be confused with Ding Dong XL) is a great story; the developer made the game with voice commands, an infrared camera, and a hat with a reflector to compensate for a repetitive stress injury. It'll be one of Neal's 19,000 reviews this week.
And why is Japan so busy?
The same reason Nintendo reports quarterly earnings tomorrow: this is more like a Platinum Week instead of Golden Week because to celebrate a new emperor the normal holiday is getting pulled to nearly two weeks.
North America
Switch Retail
Mortal Kombat 11 (US$59.99/C$79.99: Tuesday)
Ugly Dolls: An Imperfect Adventure ($39.99/$50.39: Friday)
Dragon's Dogma: Dark Arisen ($29.99/$39.99: Tuesday)
Switch eShop
Cytus a ($49.99/$62.99)
Deponia ($39.99/$50.39: Wednesday)
SteamWorld Quest: Hand of Gilgamech ($24.99/$31.49)
Aggelos ($14.99/$18.89)
Super Blood Hockey ($14.99/$18.89: Friday)
Panty Party ($14.99/$18.89)
Beyond Enemy Lines: Covert Operations ($13.99/$17.63: Tuesday)
The Litte Acre ($12.99/$16.37)
Lost King's Lullaby ($9.99/$12.59)
Robox ($9.99/$12.59: Monday)
Picross S3 ($9.99/$12.59)
Boxboy + Boxgirl ($9.99/$12.59: Friday)
Shalnor Legends: Sacred Lands ($9.99/$12.59: Friday)
GoatPunks ($9.99/$12.59: Saturday)
Death Coming ($6.99/$8.81)
Hotel Dracula ($5.69/$7.17: Friday)
Zeroptian Invasion ($4.99/$6.99: Friday)
Defend Your Castle ($4.99/$6.29)
Super Star Blast ($4.99/$6.29: Friday)
Vandals ($3.99/$5.49)
Dig Dog ($3.99/$4.99: Friday)
Isoland 2 - Ashes of Time ($3.62/$4.86)
Type:Rider ($2.99/$3.99)
Homo Machina ($2.99/$3.75)
Joe Jump: Impossible Quest ($2.99/$3.50)
Gym Hero: Idle Fitness Tycoon ($2.29/$2.89: Saturday)
Isoland ($2.17/$2.91)
Theater Tales ($1.49/$1.88: Wednesday)
Ding Dong XL ($0.99/$1.25: Monday)
Switch Archives
Psycho Soldier ($7.99/$9.87)
Sales and Price Drops
Highlights: Super Kickers League is 35% off until the 29th. Spreadsheet
Europe
Switch Retail
Mortal Kombat 11 (€69.99/£54.99: Tuesday)
Ugly Dolls: An Imperfect Adventure (€39.99/£August: Friday)
Dragon's Dogma: Dark Arisen (€29.99/£26.99: Tuesday)
Switch eShop
Cytus a (€49.99/£44.99)
Deponia (€39.99/£35.99: Wednesday)
SteamWorld Quest: Hand of Gilgamech (€24.99/£22.49)
Super Blood Hockey (€14.99/£13.49: Friday)
Panty Party (€14.59/£13.09)
Beyond Enemy Lines: Covert Operations (€13.99/£12.59: Monday)
Aggelos (€13.99/£11.99)
The Litte Acre (€12.99/£9.99)
Lost King's Lullaby (€9.99/£8.99)
Robox (€11.09/£9.99: Monday)
Picross S3 (€9.99/£8.99)
Boxboy + Boxgirl (€9.99/£8.99: Friday)
Shalnor Legends: Sacred Lands (€9.99/£8.99: Friday)
Death Coming (€6.99/£6.29)
Zeroptian Invasion (€4.99/£4.99: Friday)
Hotel Dracula (€4.99/£4.49: Friday)
Super Star Blast (€4.99/£4.49: Friday)
Rogue Bit (€4.99/£3.99)
Vandals (€4.49/£4.09)
Defend Your Castle (€4.39/£3.99)
Type:Rider (€3.49/£3.19)
Homo Machina (€3.49/£3.19)
Dig Dog (€3.49/£2.99: Friday)
Isoland 2 - Ashes of Time (€3.22/£2.75)
Joe Jump: Impossible Quest (€2.99/£2.69)
Gym Hero: Idle Fitness Tycoon (€1.89/£1.69: Wednesday)
Isoland (€1.92/£1.65)
Theater Tales (€1.39/£1.29: Wednesday)
Ding Dong XL (€0.99/£0.89: Monday)
Switch Archives
Psycho Soldier (€6.99/£6.29)
Japan
Starlink: Battle for Atlas (¥8424)
Satsujin Tantei Jack the Ripper (¥7538)
Reine des Fleurs (¥6804)
Cytus a (¥6264)
Final Fantasy XII: The Zodiac Age (¥6264)
Umihara Kawase Fresh! (¥6264)
Sword Art Online Hollow Realization (¥6156)
Project Highrise: Architect's Edition (¥5184)
Dragon's Dogma: Dark Arisen (¥3990)
Yu-Gi-Oh Duel Monsters Legacy of the Duelist: Link Evolution (¥3240)
Darksiders Warmastered Edition (¥2980)
Figment (¥2160)
Light Tracer (¥2000)
Ninjin: Clash of Carrots (¥1500)
Panty Party (¥1500)
The Way Remastered (¥1200)
Boxboy X Boxgirl (¥1200)
Picross S3 (¥1000)
Virtua Racing (¥999)
Psycho Soldier (¥823)
Tsukue de Bowling (¥800)
Death Coming (¥750)
Slabwell (¥540)
Sudoku Relax (¥500)
Isoland 2 - Ashes of Time (¥400)
Isoland (¥240)
Crane Game Toreba (free)