The games we previously thought were excluded? They're heeeeeeere.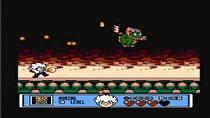 With today's release of the Konami Arcade Anniversary Collection, Konami has revealed the rest of the lineup for the upcoming Castlevania Collection.
In a post on the PlayStation Blog today, the Castlevania Collection received a May 16 release date, as well as the final four games for the collection. Joining the original, Castlevania III, Castlevania II (Game Boy) and Super Castlevania IV are Castlevania II: Simon's Quest (NES), Castlevania: The Adventure (Game Boy), Castlevania: Bloodlines (Genesis) and Kid Dracula (Famicom). Kid Dracula previously released outside Japan on the Game Boy, but this is the first time his Famicom adventure will be localized.