You can probably guess a few, but can you name all 10 without looking?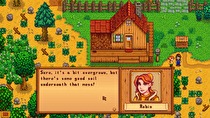 Following yesterday's Nindie Showcase, Nintendo dropped some details on the performance of indie games on Switch.
In a session at the Game Developer's Conference, Nintendo confirmed that sales of independent titles were up 95% in the last twelve months when compared to the launch year. The top 10 sellers among indie game, with no rankings given, were:
Stardew Valley
Undertale
Dead Cells
Overcooked
Overcooked 2
Golf Story
Enter the Gungeon
Hollow Knight
Graceful Explosion Machine
Celeste
Half of the top 10 indies were 2018 releases.