UUDDLRLRBAStart, y'all.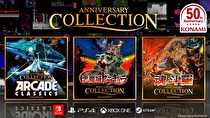 As part of celebrations of their 50th anniversary, Konami will be rolling out three compilations of their classic titles into the summer.
The three compilations are themed around Konami arcade titles, Castlevania and Contra. The Arcade collection, releasing first on April 18 for US$19.99, will include Gradius I and II, Life Force/Salamander, Twinbee, Scramble, Thunder Cross, Haunted Castle, and Typhoon/A-Jax.
The Contra and Castlevania lineups have also been partially revealed: the Castlevania collection will include the original, Castlevania III: Dracula's Curse, Super Castlevania IV, and the Game Boy title Castlevania II: Belmont's Revenge. There may be more than one Castlevania collection, as Konami has said "The first Konami Castlevania Collection is designed to be a completed collection around the origins of the historic franchise."
The Contra collection has confirmed Contra (NES), Super Contra (arcade), Super C (NES) and Contra III: The Alien Wars (Super Nintendo): this is the first time ever that the NES Contra title has been re-released in a digital format, after being included as an unlockable in 2007's Contra DS.