I always heard this game was "da bomb".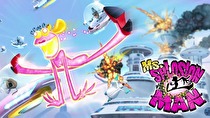 The European eShop has added a listing for a game that hit with a big bang.
Ms. Splosion Man, a 2011 sequel to an Xbox Live Arcade series, has appeared on the eShop's Coming Soon page in Europe with a release date of 22 November and a price of €14.99/£11.99. Developed by Twisted Pixel Games, the original Splosion Man launched in 2009 and both games were originally published by Microsoft.
The titular "Splosion"s refer to the highly explosive material the characters are made of, which they use to navigate platforming challenges. Up to 4 players can play in co-op both locally and online.