And some Travis Touchdown news.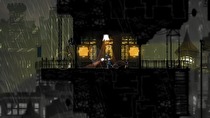 The remastered version of Mark of the Ninja is but a couple of weeks away.
Klei Entertainment's action stealth title will release on Switch on October 9. The Switch version will contain an additional level as well as developer commentary and a new player character.
In the same note, it was announced that Travis Touchdown will sport shirts inspired by Devolver Digital games in Travis Strikes Again: No More Heroes. The Messenger, Enter the Gungeon, and recent Switch announcement Downwell were specifically cited.