Exhausting all of the opportunities for appeal.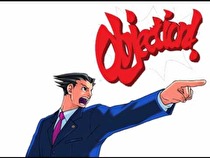 Phoenix Wright has been remanded to the Switch.
Capcom has announced the release of the Phoenix Wright: Ace Attorney Trilogy on Switch at the Tokyo Game Show. Releasing in 2019 on Switch and other platforms, the release is an enhanced version of the 2014 3DS ports.
No pricing information was detailed.
🗯️TAKE THAT!🗯️ Phoenix Wright: Ace Attorney Trilogy is coming to PS4, XB1, Switch, and PC in early 2019! Check out this trailer for a sneak peak at what to expect. More info coming soon! pic.twitter.com/f4dCg1Uucl

— Ace Attorney (@aceattorneygame) September 22, 2018