Yoshi's next trip to a craft-like world is hitting Switch in Spring 2019.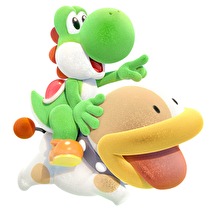 Yoshi's Crafted World is coming to Switch in Spring 2019, a minor delay from its planned 2018 release.
The adorable craftwork game comes from GoodFeel, who made Kirby's Epic Yarn and Yoshi's Woolly World. The game features co-op and Poochy. Much like its demo at E3 2017, levels be played both forwards and backwards. More information about the 2019 release will be revealed as we get closer to its launch.