And the mascots have cool new toys to play with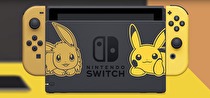 Pokemon Let's Go has announced new hardware and features.
The Switch bundle has been announced for release on November 16, and will retail for US$399.99. The hardware bundle will include a dock adorned with Pikachu and Eevee, tan and yellow Joy-Cons, the Poke Ball Plus controller, and a pre-installed copy of one of the games.
The title Pokemon in Let's Go will be able to replicate the functions of Hidden Machines in the original Pokemon titles, such as cutting trees and Surfing. They will also have a partner meter that allows for exclusive techniques.