Should be soon given we're in the season's second half.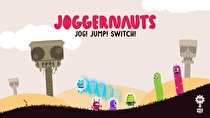 A new Switch runner is leisurely loping to a summer release.
Joggernauts, developed by local multiplayer specialists Space Mace Games and published by Graffiti Games, will come out on Switch before the end of the summer. The game focuses on an alien jogging team who have to switch leaders depending on the obstacles and colors presented.
Although designed more for multiplayer, a single player mode in which players control two joggers at once will be included.