A consistent earner with spikes when you, for instance, put Cordelia in a bathing suit.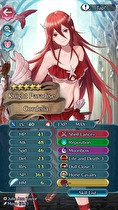 As Fire Emblem Heroes prepares for its 18-month anniversary, mobile intelligence indicates that it has pulled in a fair bit of money.
According to estimates from mobile analytic company Sensor Tower, the strategy gacha game has earned the equivalent of $400m US since launch. The firm estimates sales to date of $64m for Super Mario Run (released December 2016, spending capped at US$10) and $42m for Animal Crossing: Pocket Camp (November 2017, free to play). The split is 52/48 for Google Play/Apple App Store, and Japan is 52% of the spend with the United States another 31%.
Sensor Tower indicates that June 2018 - with the release of six new/alternate units from Fire Emblem (GBA/The Blazing Blade) and beach-themed alternate costumed units - was the second highest earning month so far at $23m. Other competitors, such as Sony's Fate/Grand Order, have brought in up to US$2b in a single calendar year.