Disclaimer: Post author backed the game on Kickstarter in the day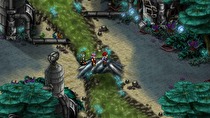 The first part of the Cosmic Star Heroine release puzzle is falling into place.
The long-awaited throwback RPG is now available for preorder on the Switch eShop, and will launch on August 14. Preordering the game will offer a 10% discount.
Limited Run Games reiterated with the announcement that a physical copy would be available "later this year or early 2019".