Time to find out if you're ready for adventure.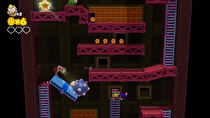 July 13th's other release has also picked up a demo, at least in Europe and Japan.
A demo for Captain Toad: Treasure Tracker can now be downloaded on the eShops in both Europe and Japan for the puzzling port. The demo can be picked up for both the Switch and 3DS ports. No timeframe has been given for release of the demos in North America.
Our Daan Koopman posted impressions of his time with the final Switch version of the game earlier today.