W-w-w-wing damage.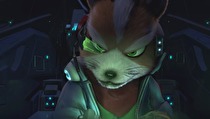 Ubisoft's intergalactic adventure has gotten some help from the Lylat system.
Starlink: Battle for Atlas has been announced for an October 16 release, and the Switch version will include an exclusive appearance from the Star Fox team. Shigeru Miyamoto appeared at Ubi's presentation for the second consecutive year and received the first Arwing model that will be compatible with Starlink.
The game will ship as a starter pack for US$74.99, which includes Fox and the Arwing as well as another ship, a pilot, three weapons, a controller mount and a poster. Packs with pilots will be $7.99, weapons $9.99, and spaceships (with a starship, pilot, and weapon) for $24.99. A "co-op" pack with a mount will be $19.99.