Seek adventure sixty seconds at a time.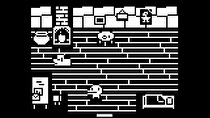 One of the year's most intriguing adventure titles is coming to Switch in a hot minute.
Minit was revealed in a Japanese-language trailer confirming various independent titles coming to the Switch ahead of this weekend's BitSummit festival. No specific date was provided beyond 2018 for the game's release.
Developed by a four-person team which includes one half of indie studio Vlambeer and published by Devolver Digital, Minit is an overhead-styled adventure game with a monochrome art style that is played entirely in one minute long chunks.