Take out Nazis IN AMERICA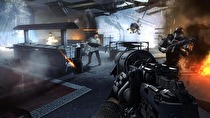 Wolfenstein II is enlisting on the Switch at the end of June.
The critically acclaimed first person shooter will release on June 29. Panic Button, the specialist studio who worked on Bethesda's port of Doom (2016) have been officially confirmed as handling Wolfenstein II as well.
The motion control options that were added to Doom post-launch will be on the shipping game for Wolfenstein II.