This year the beloved GameCube launch title is getting a whole new lease on life.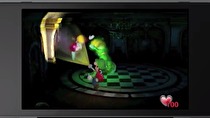 The original Luigi's Mansion is coming to the 3DS. The original GameCube title came out in 2001, and 17 years later it will get ported to Nintendo's handheld.
The 3DS actually received the game's sequel, 2013's Luigi's Mansion: Dark Moon, so with the release later this year of the port of the original, the handheld will be home to the entire Luigi's Mansion line of games.