No longer constrained to mere Arcade Archives, this new fighter is set to hit Switch this summer.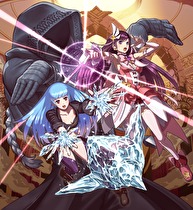 The most powerful women in SNK's storied fighting history will soon have their own Switch fighter.
SNK Heroines: Tag Team Frenzy is a 2D 2-on-2 fighting game from SNK. Special moves can be launched with a single button, while tagging will also allow for use of items to turn the tide of battle.
Mai Shiranui (Fatal Fury) and Yuri Sakazaki (Art of Fighting) will be among the combatants when the tag battles begin this summer.