Unlike Christmas Day, this won't bring down the eShop. But it probably should.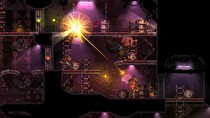 There's a reason I don't lock in my formal Game of the Year list until sometime in February, and it's this: There's still potential candidates in some of the categories coming out this week. The big two for the week are the last major 3DS release of the year (which has topped the list of at least one friend of the website) Style Savvy: Styling Star, and the defending champion for "Best Re: Game", SteamWorld Heist. Both are well worth the time.
For North America, this is a quiet week. There's only seven games this week, or roughly 50 games on sale for every new game (at least before update time). In the retro arena, we know The King of Fighters '96 will get Olympic, though a planned release of Double Dragon appears to have been delayed.
Europe gets Heist, a Saturday release for some bloody reason, and a reminder that if you can dodge a wrench you can dodge a ball. In the run-up to New Year's Japan is the big gainer this week, including another Touhou game (known as Genso Wanderer over here) and speaking of nonsensical releases, a Switch version of the 3DS's Ambition of the Slimes.
And as usual this time of year, it's going to be amateur hour Sunday night if you're travelling. Have fun, stay safe, and may the memory prices keep coming down in 2018.
North America
Switch eShop
Dragon Fang Z: The Rose and Dungeon of Time (US$24.99/C$29.99: Tuesday)
SteamWorld Heist: Ultimate Edition ($19.99/$24.49)
Sparkle Unleashed ($7.99/$9.99: Monday)
Energy Cycle ($2.99/$3.99: Monday)
3DS eShop
Style Savvy: Styling Star ($39.99/$51.59)
Switch Archives
The King of Fighters '96 ($7.99/$9.87)
Demos and Trials
Mighty Gunvolt Burst (Switch / 3DS)
Sales and Price Drops
Highlights: Ubisoft titles are on sale until January 1.
Europe
Switch eShop
Dragon Fang Z: The Rose and Dungeon of Time (€19.99/£17.99: Tuesday)
SteamWorld Heist: Ultimate Edition (€19.99/£17.99)
Stikbold! A Dodgeball Adventure Deluxe (€19.99/£17.99: Friday)
Mecho Tales (€8.49/£7.49)
Sparkle Unleashed (€7.99/£6.99: Monday)
Energy Cycle (€2.99/£2.69: Monday)
Tactical Mind (€2.99/£2.69: Saturday)
Switch Archives
The King of Fighters '96 (€6.99/£6.29)
Demos and Trials
Mighty Gunvolt Burst (Switch / 3DS)
Japan - Switch
Moorhuhn Knights & Castles (¥3980)
Mystery Gensokyo: TOD Reloaded (¥3888)
Human Fall Flat (¥1500)
The Next Penelope (¥1380)
Kaiji: Steel Beam Crossing of Despair (¥999)
LFO: Lost Future Omega (¥864)
The King of Fighters '96 (¥823)
Tallowmere (¥700)
Ambition of the Slimes (¥500)