Might be the best thing to come out of this particular cinematic universe.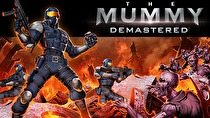 After a slight delay, the newest project from WayForward will arrive just before Hallowe'en.
The Mummy Demastered was nailed down today for an October 24 release by WayForward. The 2D-inspired exploration platforming game is based on the 2017 Mummy movie starring Tom Cruise, a part of the Universal "Dark Universe" of monster films.
Originally, the game was slated for an August release.