Behold the King... the King of Knights.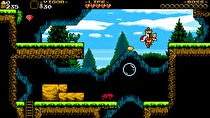 The final expansion to Shovel Knight will arrive early next year.
Yacht Club Games has announced that Shovel Knight: King of Cards will release in early 2018 on Switch first. The expansion stars the gold-plated King Knight as he explores new worlds and attempts to defeat his royal competition.
Details on distribution to the Wii U and 3DS versions will be announced later.