Sadly, Warriors will not come with a skilled Roy. That would be DLC.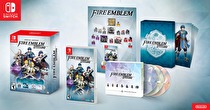 Nintendo of America has dropped a couple of news bits about limited editions.
The first to arrive will be the limited edition for Fire Emblem Warriors, which will launch October 20 in North America on Switch and New 3DS. The limited edition will contain a double sided poster, a 3 CD soundtrack, 25 art cards and a Switch version of the game for US$79.99..
Following that will be the Pokémon Ultra Sun/Ultra Moon Veteran Trainer's Dual Pack slated for November 17. This package will contain copies of Ultra Sun and Ultra Moon, 16 art cards, and a download code redeemable for 200 Poké Balls. Similar packages have been made available previously for Omega Ruby/Alpha Sapphire and the original Sun/Moon games.