With a focus on Switch titles again.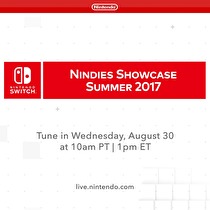 In a big week for indie titles on Nintendo platforms, the schedule just got a bit busier.
Nintendo will air a "Nindies Showcase" video on Wednesday (August 30) at 10 a.m. Pacific time / 1 p.m. Eastern. Nintendo's announcement tweet confirmed multiple Switch titles will be detailed. The showcase video will drop ahead of the 2017 "Nindies @ Night" event Thursday night tied to PAX West.
The last Nindies Showcase video aired in February and featured the announcement of Runner 3, SteamWorld Dig 2, Stardew Valley and more.