Thank Arceus the Switch is region free.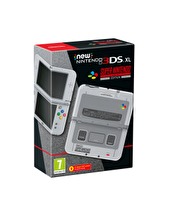 The Super NES Classic Mini won't be the only love shown to Nintendo's 16-bit powerhouse this autumn in Europe.
A previously Japan-only New 3DS with a Super Famicom-inspired design is being released in Europe on 13 October. As with the Japanese design, the outer sides are designed like the region's system while the buttons are colored in the same fashion as the Super Nintendo controller.
No game is currently slated to launch alongside the system, but the Nintendo Selects line will add Super Mario 3D Land, Luigi's Mansion: Dark Moon and Kirby Triple Deluxe on the 13th.